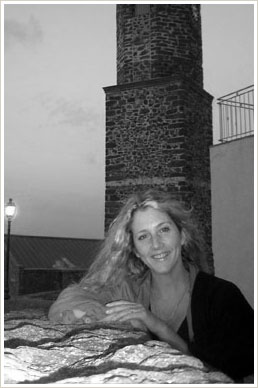 The designer - Astral Sundholm
Astral's childhood was spent dressing up in antique clothes as her mother ran vintage shops in London in the 1970's & 80's whilst her father toured with his band.
Her love of fashion led to her studying Fashion at Chelsea school of Art and Winchester School of Art.
Astral then worked with leading designers in the fashion industry creating costumes for music artists whilst also running the famous Vintage designer boutique Circa Vintage where she spent 14 years sourcing 'Vintage' for the world's leading designers, design houses and for the vintage enthusiast with a passion for fashion.
The idea to create Circa Brides grew out of the huge number of brides who visited her shop looking for vintage wedding dresses who were often disappointed with the real thing due to the size, fit and condition.
Circa Brides was relaunched in 2010 and combines all of Astral's vast knowledge of vintage design, textiles and high end cutting to produce a collection of silk gowns made in England exuding all the Glamour and silhouettes of past decades and fine tuned into what today's women are looking for in their ideal gown.
"Astral understands the female form and how to make a woman look and feel special in a dress" - Julien MacDonald